2011 President's statement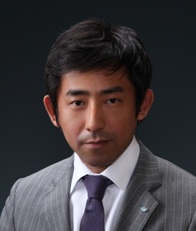 JCI Fukuoka 59th president
Yoshiya Naganuma

(Breakthrough)
Redefine ready-made ideas and take a dynamic stride toward changes and challenges.
"Think outside the box; be bold and take a challenge"
Junior Chamber International (JCI) Japan were established amidst devastation at the end of the World WarⅡ, by passionate youths endowed with love for their country and a sense of purpose in rebuilding its economy.
Our Junior Chamber International Fukuoka. (JCI Fukuoka ) has existed to this day since its establishment on 1953, during a period of upheaval.
I believe JCI Fukuoka will continue to pursue infinite possibilities by mobilizing the passion and high aspirations shared among the members, as well as drawing on what our senior associates have achieved.
What I hope for the members of JCI Fukuoka is "to think outside the box and be bold enough to take a challenge".
Any challenge passionately undertaken is sure to bring changes to FUKUOKA.
It is our mission to create a bright and affluent society in FUKUOKA.
"What is the raison d'etre (reason for being) of Fukuoka City?"
Since ancient times, Fukuoka has had close relationships with China and Korea by taking advantage of its geopolitical features.
Our forefathers risked their lives to cross the sea and make a path for exchanges with people in other Asian countries―their strong will has made Fukuoka what it is today.
All through the ages, it was Asian countries that opened up new possibilities for Fukuoka.
As the government-ordinance-designated city closest to other Asian countries, Fukuoka has been promoting active exchange with other cities in Asia, under the slogan "a vibrant Hub City in Asia".
It is therefore our greatest honor that JCI Fukuoka launched the "Asian-Pacific Children's Convention in Fukuoka", which is now well-recognized as the most valuable asset of all Fukuoka City's policies related to Asia.
"ASIA in the 2nd STAGE―a shift from the age of exchange to the age of collaboration"
There is no doubt that Fukuoka should move its strategy for Asia to the next stage. That is, it should make a shift from the conventional policy, so-called "the age of exchange", to the second stage, "the age of collaboration".
"Collaboration" means that we build "win-win relationships" with other Asian countries, including those in economic activity.
The market of movies and entertainment industry for example, is now being formed and shared between Japan, Korea, China, Taiwan, and Singapore.
In such industrial activity as this, Fukuoka City has plenty of possibilities to play a starring role as a center.
Recently we have seen the steady increase in the number of companies and sole proprietors who expand into Asia and other parts of the world.
Meanwhile, the members of JCI Fukuoka should be the first to recognize this tremendous growth potential of Asia. They should also have the opportunity to identify the characteristics of cosmopolitan and business people in this global era, and then help decide what young Japanese people as bearers of this country's future need to acquire.
Thus, we hope to foster as many Fukuoka citizens as possible to be active leaders in this globalized world.
"Transformation from an Urban Core City in Japan to a Hub City in Asia"
Fukuoka is now called "a major city for national economy" or "a major city of economic activity". From now on however, it should aim to establish itself as a Hub City in Asia that has branch offices of global companies, including Asia-based ones.
This will require Fukuoka to take measures that are attractive to overseas firms, like creating a free-trade zone where preferential treatment is applied concerning taxes, for example.
Singapore, Hong Kong and other international cities have already introduced various policies, and their global scope of planning and sense of speed are overwhelming enough to serve as a useful reference.
In addition, intellectuals point out that one of the reasons Japan falls behind the world lies in over concentration in the Tokyo area.
I am convinced that Fukuoka has an important role to play as a city located in the middle area among monster cities, like Tokyo and Shanghai, with populations of over 15 million.
Within such context, each one of us should exercise global sense in considering the future of FUKUOKA.
"As a strong gateway to Asia"
In Japan's economy recently, there has been an increased presence of foreign tourists, mainly from East Asia, with their spending power producing ripple effects.
In fact, this has already boosted competition among Japanese cities to attract more tourists from other Asian countries, and thus Fukuoka is able to make the most of its potential to make a success of this.
Rather than aiming to be one of the internationally recognized cities like Tokyo or Kyoto, Fukuoka has to establish its own style.
It means we need to develop a cultural creation project to be the new concept of Fukuoka, as a strategy to attract both domestic and international tourists.
This year the Kyushu Shinkansen (bullet train) is going to be fully opened, which is sure to bring a considerable change in the flow of people.
Also in our neighboring country, Korea, KTX (Korea Train Express) route has connected Seoul and Busan. If this high-speed train travel is combined with the high-speed sea vessel service between Busan and Hakata (Beetle and Kobee), we can expect to attract a greater number of tourists.
There is a real possibility that we can develop a business model such as a businessman from a Seoul-based company stopping at a branch office in Busan, then on to a Fukuoka office in Japan in a very short time.
Moreover, it makes our hearts pound to think of the daring plot to construct the Japan-Korea undersea tunnel connecting Hakata with Busan.
However, Fukuoka still leaves a lot to be desired in its infrastructure to really become and be called "the gateway to Asia". In order not to fall behind other Japanese cities as the competition heats up, JCI Fukuoka is ready to work on realizing the needs necessary for either the hardware or software side of Fukuoka.